Leavers 2022
23rd Jun 2022
Our Primary 7 children leave us to move on to secondary education in there chosen schools. We wish each and every one of them all the very best and look forward to hearing all of their achievements in the future years.
Along with our Primary Seven children we are also saying goodbye to a number of staff members who received a presentation form the school including classroom assistants Miss Katie Magee, Miss Amy Hughes and Mrs McNamee who is going off on maternity leave. We wish them all the very best for the future.
We also say goodbye to Mrs Suzanne Cooke our Head Cook who has been serving the school for eighteen years. We wish her every success in her new post in Howard Primary School Dungannon.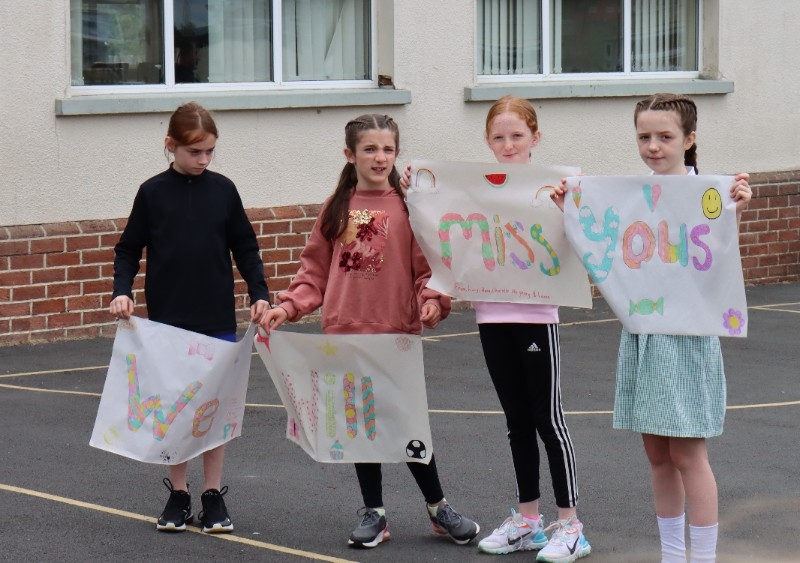 Archive
Videos
Collegeland P1 Christmas2020
14th Dec 2020
P1 Christmas Nativity
14th Dec 2020
Trailer for Learning through Landscapes video
2nd Dec 2020
P1/2 End of Year 2020
29th Jun 2020
2020 Leaver's Video
19th Jun 2020
P4 Holy Communion Video
15th May 2020
o 1e7554nmq1soerpn1ldoearotqc
30th Apr 2020
Public Health Agency Handwashing Video
12th Mar 2020
Meet Frank the Snowman
3rd Dec 2018
Baby Shark @ SSE Arena
30th Nov 2018
90 Collegelands Rd, Charlemont, County Armagh, BT71 6SW | T: 028 8778 4620

WEBSITE BY: SCHOOLWEBDESIGN.NET | Login